The history of St. Columba begins, in a sense, with the land grants made by the king of Spain as Father Juniper Serra and his followers were originally settling California. St. Columba Church is built on land the was part of a grant to Mission San Diego de Alcala.
January 1955
Father Edward Johnson was appointed the first pastor of St. Edward's church (the name was later changed to St. Columba.) Father Johnson celebrated the first parish Masses in his apartment on Afton Road and then later in Gibbs Hanger at Montgomery Field.
June 1955
Father Johnson was tragically killed in an automobile accident and Father Alfred Geimer was appointed interim pastor.
September 1955
Father Patrick O'Neill was named pastor.
May 1957
Groundbreaking for the construction of St Columba Church.
December 1957
First Mass in the hall.
March 1958
Fr. Edward McAvoy became first Assistant Pastor.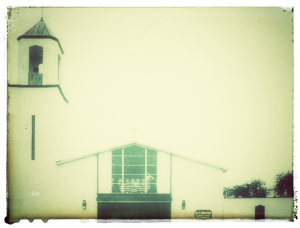 October 1958
First Mass in the church.
December 12, 1958
Formal dedication of the church by the Most Reverend Richard H. Ackermann.
February 1963
Groundbreaking for the school and convent.
May 17, 1964
The completed school and convent were blessed by the Most Reverend Francis J. Furey.
1966
Following the guidelines of Vatican II, the sanctuary was remodeled.
January 1985
Msgr. O'Neill retired and Msgr. John Dickey was appointed pastor.
January 1990
Msgr. Patrick Mullarkey was appointed pastor.
1991
The church was renovated for the second time. In addition to major interior changes to the church, a daily Mass chapel was added, as well as the Blessed Sacrament Chapel.
July 2008
Father Mario Elias was appointed Pastor.
July 2014

Father Mel Monreal was appointed Pastor.
October 2016
Father Ed McNulty was appointed Pastor.